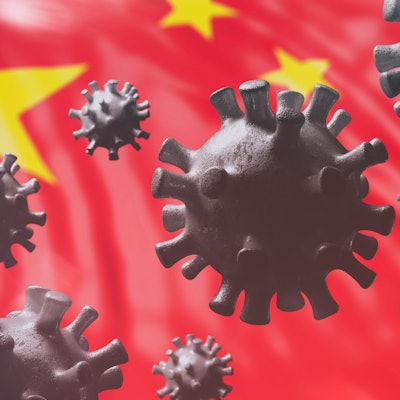 The U.S. Centers for Disease Control and Prevention's (CDC) criteria for coronavirus testing and problems with the agency's diagnostics drew more scrutiny after the report of a case in California of community spread and a delay in diagnosis.
The diagnosis of a patient with the novel coronavirus SARS-CoV-2 at the University of California, Davis (UCD) Medical Center came to light on February 26. The individual had not traveled to Wuhan, China, and had no known exposure to anyone with a confirmed case of COVID-19, the respiratory illness caused by the virus.
It is thought to be the first case of community spread, meaning the virus was spread from person to person in the general public, as opposed to through someone who had exposure from travel to China, the source of the outbreak.
In a statement, UCD Medical Center said the patient had been transferred from another hospital in Northern California. UCD had requested coronavirus testing from the CDC, but because the patient didn't meet the CDC's criteria for testing, "a test was not immediately administered."
"UC Davis Health does not control the testing process," it said in the statement.
The CDC ordered a test on February 23 and confirmed a positive result on February 26. The agency confirmed that the case in California represents a "possible instance" of community spread of COVID-19. If so, that would be a first for the U.S.
One caveat is that the source of infection is unknown, and it is still possible that the patient was exposed to a returned traveler who was infected, the agency noted.
Testing has been inadequate
The CDC's management of testing for COVID-19 has drawn scrutiny in recent weeks. The agency's criteria for testing has focused on individuals with fever and signs of symptoms, such as cough or shortness of breath, and who also have a connection to travel from China. On February 27, the agency updated its criteria to incorporate the management of patients with severe illness where no source of exposure has been identified. The updated guidance also shifts the focus from a history of travel from China to a history of travel from affected areas.
CDC criteria for coronavirus testing, updated February 27
Fever or signs/symptoms of lower respiratory illness (e.g., cough or shortness of breath)
AND
Any person, including healthcare workers, who has had close contact with a laboratory-confirmed COVID-19 patient within 14 days of symptom onset
Fever and signs/symptoms of lower respiratory illness (e.g., cough or shortness of breath) requiring hospitalization
AND
A history of travel from affected areas within 14 days of symptom onset
Fever with severe acute lower respiratory illness (e.g., pneumonia, acute respiratory distress syndrome) requiring hospitalization and without alternative explanatory diagnosis (e.g., influenza)
AND
No source of exposure has been identified
Compounding the issues around diagnostic criteria has been a bottleneck on testing availability. Since a public health emergency has been declared in the U.S., labs must get an emergency use authorization (EUA) from the U.S. Food and Drug Administration (FDA) to conduct laboratory-developed tests (LDTs). So far, the CDC has been the only entity granted an EUA from the FDA. The CDC shipped tests to state and local labs earlier this month, but problems with reagents meant that the assays could not be validated.
In light of the problems, the CDC indicated on February 21 that the focus is on its own testing. To date fewer than 500 tests have been conducted by the CDC.
The Association of Public Health Laboratories (APHL) has asked the FDA to designate select high-quality government labs to create and implement their own laboratory-developed tests. In a series of tweets on February 27, the APHL said it has been discussing a new strategy for testing with the FDA and the CDC, one that eliminates a component of the test kits that was at the root of the problems.
A new protocol involving two of three components of the original test kits has been developed, and soon 40 public health labs could begin testing with existing kits, without the problem component, the APHL said.
There has been a lot of #COVID19 testing news this week. It has been moving quickly which makes it hard for us to keep up and provide you with accurate info. We are going to do our best to explain as much as we can in this thread. #coronavirus 1/

— APHL (@APHL) February 27, 2020
Former FDA Commissioner Dr. Scott Gottlieb tweeted on February 27 that the agency's device center is taking significant steps to expand U.S. testing capacity through rolling reviews for public health labs to offer LDTs for COVID-19. Gottlieb has been advocating for labs to be able to do their own LDTs, as well as for a change in testing criteria to better detect community spread.
NEW: FDA's device center is taking significant steps to expand U.S. testing capacity by establishing efficient EUA path, rolling reviews for public health labs to offer lab developed tests to detect #COVID19. This is major step reflecting superb leadership by Jeff Shuren and team

— Scott Gottlieb, MD (@ScottGottliebMD) February 27, 2020
Calif. expects more testing capacity
During a press briefing on the morning of February 27, California Gov. Gavin Newsom said that expanding testing capacity in the state was a top priority. Discussions with the CDC indicate that capacity will be "exponentially expanded," and California wants to be conducting its own testing at multiple locations in the state, the governor said. As of February 27, the state had only 200 kits, including for diagnosis and surveillance, which he described as "inadequate" and a source of frustration.
Dr. Mark Ghaly, secretary of the California Health and Human Services Agency (CHHS), said he didn't have an exact number regarding tests, but he noted that expanded capacity would be coming "any day now."
Meanwhile, everyone who has been in contact with the infected person will be interviewed. The state has a robust tracking system to ensure it is reaching out to all contacts, officials said.