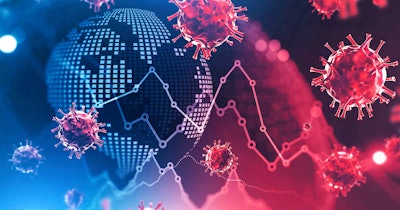 LumiraDx on Thursday announced a strategic refocus and cost restructuring program aimed at reducing its scale and operations to pre-pandemic levels.
Through cost restructuring, the firm will reduce its global workforce by approximately 40%, including full-time, part-time, and contractor positions. The workforce changes are driven in part by reduced production due to lower demand for COVID-19 testing, the firm said, as well as its focus on streamlining operations in commercial and R&D activities while preserving core functions for revenue generation.
The London-based diagnostic test supplier said that it is streamlining operations and optimizing its cost structure with the aim of enabling sustainable growth in the post-pandemic world.
"As we emerge from the pandemic, we are taking decisive actions to strengthen our business and position ourselves for long-term success," Ron Zwanziger, LumiraDx's founder and CEO, said in statement.
The firm noted it already implemented cost reduction programs in 2022. It recorded an accounting impairment of $96 million in Q4 for excess manufacturing and inventory related to the scale-up during peak COVID-19 testing demand and the decision to pause commercialization of its Amira COVID-19 test.
The firm said that in addition to reducing its headcount, it will continue to reduce operating costs. The cost restructuring program could save it approximately $36 million annually, with the majority of savings seen in the next four months. The expected savings account for an anticipated cost increase stemming from anticipated regulatory submissions to obtain test clearances in the U.S.
LumiraDx said that the restructuring will enable it to focus its resources on important strategic priorities, including commercializing the current product portfolio, expanding its product offerings, and prioritizing the development and launch of its high-sensitivity troponin and Strep A molecular tests.
Founded in 2014, LumiraDx's diagnostic tests are being deployed globally by governments and healthcare institutions for use in laboratories, urgent care, physician offices, pharmacies, schools, and workplaces to help screen, diagnose, and monitor wellness as well as disease.
In December, the firm announced that the Bill & Melinda Gates Foundation had awarded it $14.2 million in grants for the ongoing development of its point-of-care molecular diagnostic tuberculosis (TB) testing system.
Further, the U.S. Food and Drug Administration (FDA) recently granted an emergency use authorization (EUA) for the LumiraDx SARS-CoV-2 & Flu A/B RNA Star Complete assay. The multiplex test utilizes the firm's qStar technology allowing for high-throughput, direct amplification. High complexity laboratories can use the assay to quickly identify and differentiate individuals suspected by a healthcare provider of respiratory viral infection consistent with COVID-19.
Nonetheless, LumiraDx is among a series of in vitro diagnostic companies to recently announce changes stemming from lower COVID-19 testing demand.
In February, one of its competitors, Lucira Health, announced that it had filed for bankruptcy and was seeking a strategic partner. The FDA had just granted an EUA to Lucira for its COVID-19 & Flu Test -- the first over the counter (OTC), at-home diagnostic test that can differentiate and detect influenza A and B and SARS-CoV-2.
OraSure in February announced that it was combining its Molecular Solutions and Diagnostics business units, a move that eliminated 11% of its non-production workforce. Cue Health in January said that it was implementing a plan to lower costs that involved reducing its employee base by 388, or 26% of the firm's global workforce.
LumiraDx shares rose more than 8% to $.595 in Thursday morning trading on the Nasdaq.