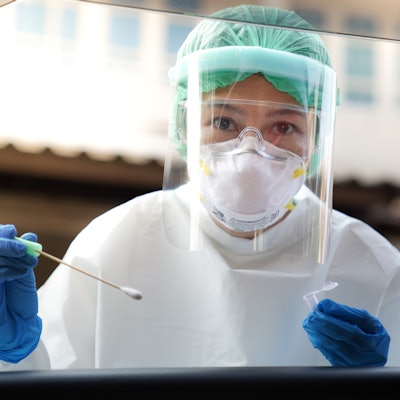 During a televised press briefing on April 19, President Donald Trump went out of his way to try to provide reassurance that the U.S. was up to the task of supplying nasal swabs for coronavirus tests. He even provided a demonstration for his audience, taking one out of its paper wrap.
"I have something here," Trump teased. "It's a swab. It looks innocent. Not very complicated. Anybody like to see what it looks like? Should I open it?"
It's actually very sophisticated -- much more so than a Q-tip, but a lot easier to produce than ventilators, which are now plentiful, Trump indicated.
There's been a lot of talk in the last week during White House press briefings on the novel coronavirus about swabs, and about plans to reopen state economies in a phased approach.
In a statement on April 17, the American Association for Clinical Chemistry (AACC) called on the federal government to correct supply chain problems that are resulting in shortages of nasal swabs and other vital products needed to ramp up testing to high volumes. Federal guidelines for reopening state economies are "heavily reliant" on additional testing but laboratory professionals are still facing significant obstacles, AACC President Carmen Wiley, PhD, said in a statement.
"There is a shortage of necessary supplies, including sample collection and test components. We also need appropriate nasal swabs to collect the specimens intended for the molecular tests," Wiley said. "Unless and until these supply chain issues are resolved, the nation's laboratories will remain stymied in their attempts to maximize their testing capacity."
In addition to supplies required for test kits themselves, lab professionals are also lacking personal protective equipment (PPE), the AACC noted.
"As frontline workers, they continue to need PPE, including gowns, masks, gloves, and face shields so that they can safely do their jobs," Wiley said. "Increased production and disbursement of these items to the entire healthcare enterprise is vital to ensuring the safety of those individuals charged with clinical testing."
Acknowledging shortages
Coronavirus task force leaders acknowledged issues with supplies during a White House press briefing on April 17. Dr. Anthony Fauci said there have been situations where tests are needed and appropriate, but people have found there are no tests or no reagents or swabs. In other cases, people needed a test, but they were told there was a restriction and they couldn't get one, he added. Or they got a test but there was a delay of five to seven days. These issues have existed, but many of these problems have been corrected or will be corrected, Fauci said.
Response coordinator Dr. Deborah Birx noted during the same briefing that the government is calling on the American Society for Microbiology (ASM) to provide feedback on any problems from lab directors. Labs are being asked if there are issues with swabs, transport media, and extraction, Birx noted.
President Trump advised that 1 million coronavirus tests are being conducted per week in the U.S. and that the federal government would be sending out 5.5 million testing swabs to the states in the next few weeks. He also cited a new public-private collaboration involving the U.S. Food and Drug Administration (FDA) related to testing supplies that he said will help testing capability to "continue to grow dramatically."
On April 16, the FDA announced the development and arrival of fully synthetic swabs as a means of expanding coronavirus testing options through a collaboration involving the following:
U.S. Cotton, subsidiary of Parkdale Mills
The Gates Foundation
UnitedHealth Group
Quantigen
U.S. Cotton, which is a large manufacturer of cotton swabs, has developed a polyester-based Q-tip type of swab for use in COVID-19 testing. The clinical studies necessary for this advance were supported and carried out by UnitedHealth Group, Quantigen, and the Gates Foundation. With this type of swab, samples may be collected from a sample taken from the front of the nose, enabling self-collection, the agency noted.
"Harnessing its large-scale U.S.-based manufacturing capabilities, U.S. Cotton plans to produce these new polyester swabs in large quantities to help meet the needs for coronavirus diagnostic testing," the FDA said.
Other partnerships to boost the capacity of swabs by millions are in the pipeline, according to the government.