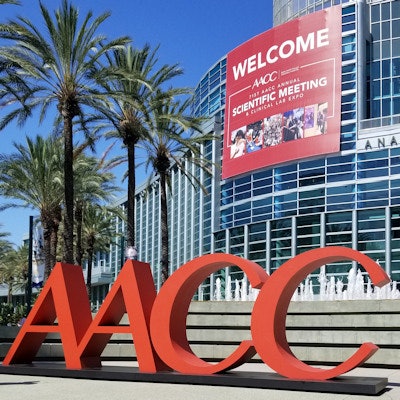 ANAHEIM, CA - Clinical laboratories still have room to improve when it comes to complying with accreditation requirements and staying on top of trends in regulation, according to a presentation at the American Association for Clinical Chemistry (AACC) meeting on August 7.
More than 8,000 labs are accredited on a voluntary basis by the Northfield, IL-based College of American Pathologists (CAP) and must meet particular requirements for proficiency testing. In June, the organization published a list of 41 labs that had been continuously accredited since 1964. CAP may provide inspections instead of the U.S. Centers for Medicare and Medicaid Services (CMS), which has an oversight role for labs through CLIA.
CAP accreditation is guided by 14 different checklists with requirements covering a wide range of requirements across labs. Examples of CAP checklists and what they cover include the following:
Laboratory General (GEN) checklist; applies to all departments in a lab: quality management, specimen collection, chain-of-custody specimen collection and handling, direct-to-consumer testing, result reporting, quality of water, laboratory computer services, telepathology and remote data assessment, whole slide imaging, personnel, physical facilities, laboratory safety, and California laboratory licensure requirements
All Common (COM) checklist; contains core requirements that apply to all relevant areas: proficiency testing, procedure manuals, specimen collection and handling, quality management, reporting of results, reagents, instruments and equipment, waived test implementation, test method validation/verification-nonwaived tests, and individualized quality control plans
Pathologist Dr. Bradley Karon, PhD, from the Mayo Clinic in Rochester, MN, presented the top 10 areas of deficiency and their checklist requirement numbers in CAP's Laboratory Accreditation Program (LAP) in an interactive AACC presentation on regulatory issues.
Top 10 list of fails in LAP inspections for 2018:
GEN.55500: Each person performing patient testing must be competent to perform his or her assigned duties.
COM.01200: The current activity menu must reflect the lab's current testing, with discontinued tests removed.
COM.04250: If the laboratory uses more than one nonwaived instrument/method to test for a given analyte, the instruments and methods need to be checked against each other at least twice a year for comparability of results.
COM.10000: A complete procedure manual must be available in a paper-based, electronic, or web-based format at the workbench or in the work area.
COM.30600: Appropriate maintenance and function checks must be performed and records maintained for all instruments (e.g., analyzers) and equipment (e.g., centrifuges) following a defined schedule, at least as frequently as specified by the manufacturer.
COM.01700: There must be ongoing evaluation of proficiency testing and alternative assessment results, with appropriate correction taken for each unacceptable result.
COM.30300: Reagents, calibrators, controls, stains, chemicals, and solutions need to be properly labeled, as applicable and appropriate.
COM.01400: Proficiency testing attestation statements must be signed by the lab director or qualified designee and all individuals involved in the testing process.
COM.04200: Instrument and equipment and function check records need to be reviewed and assessed at least monthly by the lab director or designee.
COM.03400: All reagents, chemicals, and media must be used within their indicated expiration date.
The No. 1 deficiency has topped the list "forever," and the second most common deficiency, regarding the current activity menu in labs, has also been in the same position for a long time, said Karon, who is a member of CAP's Council on Accreditation.
"It seems like a simple thing, but it's the second most commonly cited deficiency, so it's not so simple," he said.
One notable change from the prior year the list was compiled is the absence of method validation/verification approval.
"It seems like you all are figuring out that the lab director has to sign off," Karon said.
In addition, the requirement for reagents, chemicals, and media to be used within their indicated expiration date has been in and out of the top 10 over the years, he said.
Avoiding penalties
Panelist Dr. Charles Eby, a professor of pathology at the Washington University School of Medicine in St. Louis and member of CAP's Instrumentation Committee, gave a talk titled "What Every New Laboratory Leader Needs to Know About Accreditation and Regulation" and quizzed AACC attendees on scenarios that might crop up in practice.
In one scenario, Eby told attendees to imagine they were a hematology supervisor at a large academic center and referral lab. He then asked them to imagine that a technologist at an outpatient center asked them to review an educational cell identification image on a proficiency testing survey to confirm suspected blasts on a peripheral smear. However, in this case, lab policy directs the referral of suspected blasts for senior staff or pathologist review. Attendees correctly responded that the way to handle this would be to decline to review the image and instead refer it to their accrediting organization.
Eby stressed that sending out proficiency testing samples -- including educational components of surveys -- or referring them to another laboratory is prohibited. CMS takes this seriously and will penalize labs and their directors accordingly, he said. Possible penalties include the suspension of a lab's CLIA certificate.
Other items in Eby's quiz dealt with the length of time lab results should be retained, multiple instrument reporting, and the regulation of analytes. Currently, 83 analytes used in proficiency testing are regulated under CLIA. In February, CMS and the U.S. Centers for Disease Control and Prevention proposed changes to the list of regulated analytes, notably the addition of 29 analytes. Eby flagged the removal of lactate dehydrogenase isoenzymes, the removal of certain drugs (e.g., quinidine), and the addition of routine chemistry analytes, such as cardiac troponin for heart disease and hemoglobin A1c in diabetes.