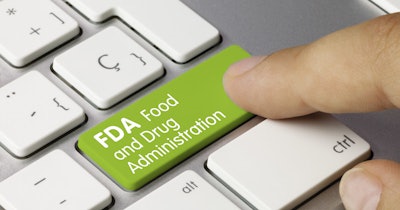 The U.S. Food and Drug Administration (FDA) has approved the FoundationOne Liquid CDx blood test as a companion diagnostic to identify patients with non-small cell lung cancer (NSCLC) under specific conditions, Foundation Medicine said Wednesday.
The approval applies to patients whose NSCLC tumors have epidermal growth factor receptor (EGFR) exon 19 deletions or exon 21 L858R substitutions and are appropriate for treatment with a group of current and future EGFR tyrosine kinase inhibitors (TKI) approved by the FDA for this indication.
Group approvals are granted when evidence is sufficient to conclude that a companion diagnostic is appropriate for use with a specific group of therapies, rather than specific products, Foundation Medicine noted.
Specific segments of the DNA molecule, called exons, contain information that helps to code proteins. EGFR mutations seen in NSCLC patients are due to mutations within two specific exons -- deletions in exon 19 and substitutions in exon 21, Foundation Medicine noted, citing scientific literature.
Since EGFR mutations are the second most common drivers of tumor growth in NSCLC patients, the ability to pinpoint two of the largest catalysts of cancer growth in these patients provides oncologists with more insight for their targeted treatment planning, the firm added.
"For NSCLC patients whose tumors have EGFR exon 19 deletions or exon 21 substitutions, this approval opens new access avenues for targeted treatment options," Dr. Mia Levy, chief medical officer of Foundation Medicine, said in a statement. "Following three recent group companion diagnostic approvals for Foundation Medicine's tissue-based test, FoundationOne CDx, this first group approval for FoundationOne Liquid CDx builds upon the momentum for more efficient and innovative regulatory approaches to the companion diagnostic approval process."
As a companion diagnostic for all therapies in this group targeting these mutations in NSCLC, FoundationOne Liquid CDx offers oncologists flexibility when selecting the correct therapy for their patients and ensures that all FDA-approved treatment options are considered within this group of therapies, the firm added.
The current therapies for which FoundationOne Liquid CDx is a companion diagnostic under the group approvals are Tarceva (erlotinib), Tagrisso (osimertinib), and Iressa (gefitinib). Foundation Medicine, an independent affiliate of Roche, said that moving forward, FoundationOne Liquid CDx will automatically become a companion diagnostic for future TKIs within this group for NSCLC that are approved by the FDA.