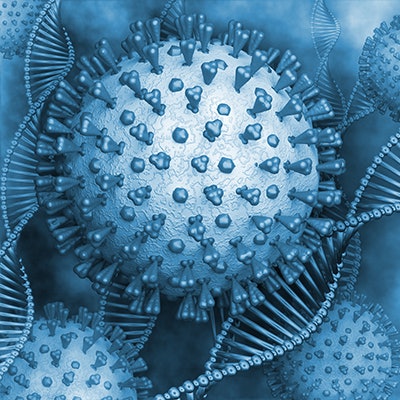 Spending on COVID-19 diagnostic tests drove an increase in Medicare Part B spending in 2020, while spending for non-COVID-19 lab tests saw a "sharp decline" during the first year of the pandemic. The findings raise concerns about whether spending on COVID-19 tests is crowding out other lab tests, according to a report from the U.S. Department of Health and Human Services (HHS).
The HHS Office of Inspector General (OIG) found that total Medicare Part B spending has increased each year for the past five years. COVID-19 tests accounted for approximately 19% of total Medicare Part B spending on lab tests, while utilization of non-COVID-19 tests as a group decreased 15.9% from 2019. Spending on lab tests other than for COVID-19 in 2020 was the lowest it had been in the past five years (no other year prior to the pandemic had a decrease).
Overall Medicare Part B spending on lab tests increased 4.2%, from $7.7 billion in 2019 to $8 billion in 2020; $1.5 billion was attributed to new spending on COVID-19 tests, including $1 billion on a rapid COVID-19 test procedure code, which was the No. 1 test by spending, according to the report.
The OIG identified 25 unique procedure codes related to COVID-19 testing, including codes for antibody tests, high-throughput tests, and panel tests that tested for COVID-19 along with other respiratory diseases. Medicare Part B payment rates for COVID-19 tests ranged from $18.09 per test on the low end to $100 per test for high-throughput tests with short turnaround times.
More than 8.4 million unique Medicare Part B beneficiaries received at least one COVID-19 test paid under the Clinical Laboratory Fee Schedule in 2020, with each beneficiary receiving an average of two such tests, according to the report.
In contrast, spending for tests other than for COVID-19 as a group decreased by about $1.2 billion in 2020. The OIG attributed this to both a decline in non-COVID-19 tests early in the pandemic and to further reductions in payment rates for some of these tests, as required by the Protecting Access to Medicare Act (PAMA) of 2014.
A particularly steep drop in non-COVID-19 tests occurred in the spring of 2020. In April 2020, administration of non-COVID-19 tests was 53% lower than the figure in April 2019. This drop coincides with guidance issued by the U.S. Centers for Medicare and Medicaid Services on April 7, 2020, recommending that providers consider postponing nonemergent care and preventive screening procedures to limit exposure to COVID-19 for patients and providers.
The decrease in non-COVID-19 lab tests is concerning, as they play a critical role in providing diagnostic information for treatment decisions.
"The decline in volume for non-COVID-19 tests raises questions about the potential impacts on beneficiary health," according to the report's authors.
As part of PAMA, which changed the way the Medicare program sets payment rates for lab tests by aligning Medicare payment rates with private payment rates, Congress mandated that the OIG publicly release an annual analysis of the top 25 tests based on Medicare spending. This data brief provides an analysis of Medicare payments for lab tests in 2020.
The OIG will continue its oversight of the effects of the COVID-19 pandemic on Medicare beneficiaries and continue to monitor annual payments for lab tests, including COVID-19 tests. The agency also plans to investigate more closely which non-COVID-19 lab tests declined in volume in 2020, it stated.