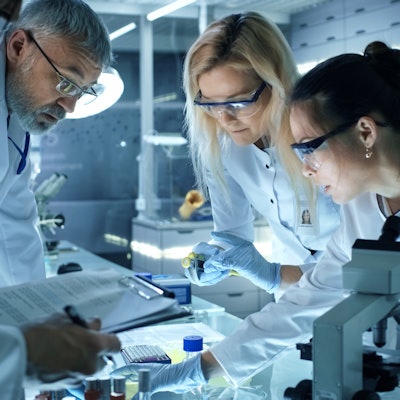 Laboratory-developed tests (LDTs) act as a bridge between laboratories and physicians. Without LDTs, patient care is neither optimal nor personalized, according to a congressional briefing from the American Association for Clinical Chemistry (AACC) on October 14.
Furthermore, adding regulation by the U.S. Food and Drug Administration (FDA) would be duplicative, burdensome, and could stymie the ability of labs to respond quickly to new diseases like COVID-19.
LDTs are noncommercial tests that labs create and use internally. They are regulated by the U.S. Centers for Medicare and Medicaid Services (CMS) and the CLIA, but over the last several years, the FDA has said it should regulate LDTs.
However, the AACC asserts adding another regulatory layer would curtail labs' ability to swiftly develop new tests. The U.S. Department of Health and Human Services has weighed in and in August said the FDA does not have authority to regulate these tests without formal notice-and-comment rulemaking.
"Moving forward, it is vital that any future changes in healthcare policy and regulation follow suit and continue to ensure patient access to these essential tests," the AACC said in a press release to accompany the congressional briefing.
The importance of LDTs
COVID-19 is highlighting just how crucial LDTs truly are, the AACC said. At the start of the pandemic, no commercial coronavirus tests were on the market, so the World Health Organization (WHO) and U.S. Centers for Disease Control and Prevention (CDC) stepped in. That meant patients had access to COVID-19 tests much faster than if they had to wait for a commercial test to become available.
However, the pandemic is just one example illustrating the importance of LDTs, said Dennis Dietzen, PhD, a professor of pathology, immunology, and pediatrics at Washington University School of Medicine and medical director of laboratory services at the St. Louis Children's Hospital, during the AACC briefing.
Other instances where LDTs play a role are for rare conditions that commercial entities don't invest in but for which tests are still needed. Also, LDTs are well-suited for when test results are desired immediately, for rapidly developing new diseases, or to test new disease biomarkers, Dietzen said.
LDTs are not only beneficial for patients but also for healthcare facilities, according to Dr. Carolee Estelle, interim chief of infection prevention for Parkland Health & Hospital System in Dallas. For instance, if it's known a patient doesn't have COVID-19, hospital staff can save their personal protective equipment (PPE) gear for patients that do.
LDTs can also help avoid bottlenecks in the emergency room because they help hospital staff understand where to situate patients. On top of that, having rapid testing available means the workforce is preserved and protected -- they know if they have COVID-19, and if they contract it, when it's safe for them to return to work.
"In the end, patients end up suffering unnecessarily without LDTs," Dietzen said. "This is the place where laboratorians thrive ... We know about the disease state. We know what clinicians need and we know how to build these things."