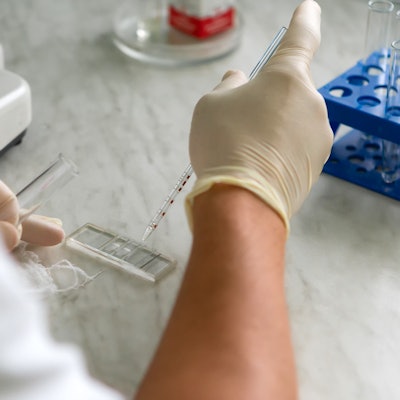 Grail is considering options for launching its multicancer blood test as a laboratory-developed test (LDT) through its CLIA lab, following a presentation of positive, preliminary data in numerous tumor types at the American Society of Clinical Oncology (ASCO) annual meeting on June 1.
The overall detection rate of Grail's LDT for 12 prespecified cancer types tested in the Circulating Cell-free Genome Atlas (CCGA) study was 76%, with 99% specificity; the test's ability to accurately determine the tissue of origin for these tumors ranged from 84% to 92%, the company reported in a statement on May 31 and in a poster presentation at the meeting.
The ASCO presentation included preliminary data from 2,301 participants in a pilot phase of the CCGA study: 1,422 had 20 cancer types at all stages and the rest had not been diagnosed with cancer. The overall sensitivity rate in the 20 cancer types was 55%, and the test identified a tissue of origin in 94% of cases, most of the time correctly.
Grail, whose financial backers include Bill Gates, Amazon, and Illumina, previously announced on May 13 that it had evaluated three next-generation sequencing methods and decided to move forward with DNA methylation sequencing technology. The company's technology has received the breakthrough device designation from the U.S. Food and Drug Administration (FDA).
Grail is testing the assay in three large studies, including CCGA, and has enrolled 115,000 out of a total of 165,000 planned participants. The STRIVE study (Breast Cancer Screening Cohort for the Development of Assays for Early Cancer Detection) of 100,000 women undergoing screening mammography is fully enrolled and due to report next year.
The company is now considering its options for commercialization. It plans to complete a premarket approval (PMA) submission once it has data from STRIVE, and it is also evaluating options to launch the test as an LDT through its CLIA lab.
On May 30, competing startup Thrive Earlier Detection announced its own launch with $110 million in series A financing and its plans to develop the CancerSEEK liquid biopsy test, which is being designed for the early detection of eight tumor types. The test was developed by researchers from Johns Hopkins University and the financing was led by Third Rock Ventures. Thrive said that it expects data from the prospective Detecting Cancers Earlier Through Elective Mutation-based Blood Collection and Testing (DETECT) study in 2020 and will then consider registrational studies.
Cancer detection rates of Grail LDT in CCGA study at 99% specificity
Tumor type (No. of patients)
Sensitivity (95% confidence interval)
Lung (n = 151)
59% (51% to 67%)
Colorectal (n = 72)
74% (62% to 83%)
Hormone receptor-negative breast (n = 67)
64% (52% to 76%)
Lymphoma (n = 60)
70% (57% to 81%)
Pancreatic (n = 41)
78% (62% to 89%)
Head and neck (n = 36)
86% (71% to 95%)
Multiple myeloma (n = 34)
71% (53% to 85%)
Ovarian (n = 30)
67% (47% to 83%)
Esophageal (n = 25)
76% (55% to 91%)
Liver (n = 25)
68% (46% to 85%)
Anorectal (n = 14)
79% (49% to 95%)
Gastric (n = 9)
78% (40% to 97%)