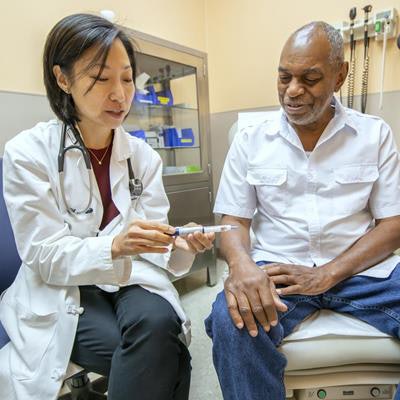 A retrospective study of almost 1 million U.S. veterans shows the potential for population-wide random plasma glucose (RPG) testing for large-scale screening, with the aim of catching diabetes early to better prevent and treat it.
Researchers evaluated the usefulness of analyzing random plasma glucose -- meaning a result discovered in the course of routine testing where fasting was not required, as opposed to specific screening for diabetes or prediabetes in people at risk -- in the U.S. Department of Veterans Affairs (VA) health system over five years. Results were published July 19 in PLOS One by lead author Dr. Mary Rhee, a physician researcher at the Atlanta VA Health Care System and a professor at Emory University, and colleagues.
Approximately 10% of 942,446 veterans whose records were studied were diagnosed with diabetes over the five-year study period, the researchers reported. Random plasma glucose testing was more sensitive and specific for identifying people who needed follow-up, helping to identify those with prediabetes or diabetes at levels well below the diagnostic threshold of 200 mg/dL.
"Our findings suggest that outpatients who have at least 2 RPG levels of 115 [mg/dL] or higher should be considered for further evaluation to determine if they have diabetes or prediabetes; diagnostic testing may be particularly cost-effective if patients have additional risk factors," the authors wrote. "Higher cutoffs may be more cost-effective for detecting diabetes alone, and lower cutoffs for detecting diabetes or prediabetes, although whether more sensitive or more specific cutoffs will be more cost-effective depends on the projected costs of testing and care."
An ounce of prevention ...
The study was performed in recognition of the value of diagnosing prediabetes and diabetes early to prevent disease and avoid complications. While using an RPG level greater than 200 mg/dL is one option for diagnosing diabetes, others include tests of fasting glucose level, oral glucose tolerance while fasting, and hemoglobin A1c (HbA1c or glycosylated hemoglobin) -- an assessment of average blood glucose over the course of two or three months.
There is limited research on the use of random plasma glucose tests, which are often conducted as part of routine testing, as a means of predicting diabetes, particularly in the setting of a healthcare system, the authors noted.
"Although screening of high-risk patients might be cost-effective, many healthcare systems have not yet implemented widespread screening," they wrote in PLOS One. "Accordingly, we need convenient, inexpensive ways to identify prediabetes or undiagnosed diabetes."
The VA study examined the correlation of two cutoff ranges for RPG at baseline -- 115-199 mg/dL and 130-199 mg/dL -- with records of later diagnoses and/or drug prescriptions for diabetes. The median RPG was 101 mg/dL for those who remained nondiabetic over the course of five years, versus 112 mg/dL for those who developed incident diabetes, the investigators reported.
The sensitivity and specificity for predicting diabetes for an individual who has had two tests showing a blood glucose level of more than 115 mg/dL were 87% and 77%, respectively. Sensitivity and specificity for those with a blood glucose level of more than 130 mg/dL were 59% and 93%, respectively.
The RPG level is affected not only by the underlying diabetes status but also by how recently the individual had something to eat, including the sugar/carbohydrate content and the amount of food, Rhee commented by email to LabPulse.com. In routine lab tests, RPG can reflect a fasting glucose level or a glucose level after someone has eaten a large meal or snack.
"Therefore, individuals with undiagnosed, early diabetes may have only mildly elevated RPG levels, especially if the levels were measured while fasting or after they had a low-carbohydrate meal/snack," Rhee explained. "As such, a higher RPG threshold of ≥ 130 mg/dL would miss these individuals and thereby reduce sensitivity."
The findings "indicate that strong consideration should be given to follow-up diagnostic testing" for those who test over these levels twice within one year, the researchers concluded.
"Use of such levels -- obtained opportunistically, during outpatient visits -- to signal the need for definitive testing might lead to earlier identification, and permit initiation of preventive management, but would need confirmation in other cohorts," they wrote.
Research suggests that people could have diabetes for as long as nine to 12 years before they are diagnosed, the investigators noted.
"Systematic screening could permit detection earlier in the natural history, when use of lifestyle change strategies and/or medications could help prevent or delay progression from prediabetes to diabetes, and the development of diabetes complications," they wrote.
The average age at baseline of the veterans in the study was 63.4 years, and 96% were male.
"Further research is needed in other cohorts to confirm generalizability and is one of the next steps we are considering at this time," Rhee told LabPulse.com "Our research was based on data in the VA database, and we would be interested to see if analyses in other databases confirmed our results with a different patient population."