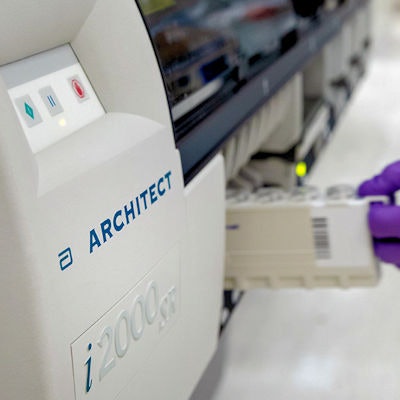 Abbott has debuted a lab-based serology blood test for the detection of immunoglobulin G (IgG), the antibody that identifies if a person has had COVID-19. The company has now released three COVID-19 tests.
The IgG antibody test will be available initially on Abbott's Architect i1000SR and i2000SR laboratory instruments, which can run up to 100-200 tests per hour, according to the vendor. The firm is also working to add the test to its new Alinity i platform.
Abbott expects to begin shipments of the new test on April 16, with plans to distribute 1 million tests this week, 4 million tests overall in April, and then increasing to 20 million in the U.S. per month in June and beyond. The test is being made available under the notification issued by the U.S. Food and Drug Administration (FDA) without an emergency use authorization (EUA) pathway, Abbott said. However, the company said that it plans to file an EUA submission with the FDA and also to receive the European CE Mark.
In addition, Abbott said it will be expanding its laboratory antibody testing to include the detection of the immunoglobulin M (IgM) antibody in the near future.