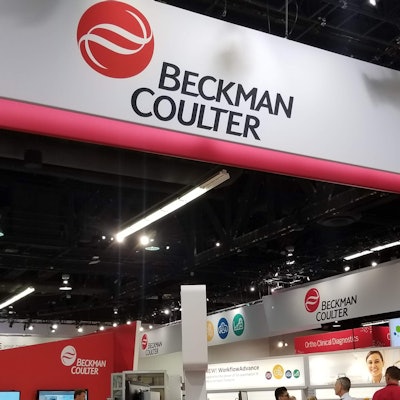 Beckman Coulter has debuted a new COVID-19 test, the Access SARS-CoV-2 antigen assay, which the company said is cost-effective and has high throughput.
The assay has 93% positive percent agreement (PPA) within seven days after symptom onset and 100% negative percent agreement (NPA). The assay also has a detection threshold of 33 TCID50/mL, which is two to 200 times lower and thus more sensitive than the reported limits of detection for most point-of-care (POC) antigen tests, the firm said.
Results are available in as few as 30 minutes on Beckman Coulter's immunoassay analyzers, including the DxI 800, a high-throughput analyzer capable of processing 200 samples per hour. The assay overcomes workflow challenges associated with POC tests and can deliver 25 million tests per month, the firm said.
The new assay is priced at $4 for all healthcare providers, including public and private institutions, governments, and nonprofits, to enable frequent testing.
Beckman Coulter is filing for emergency use authorization (EUA) with the U.S. Food and Drug Administration (FDA) and said it can immediately begin shipping 18 million tests per month. The assay will be made available to markets accepting the CE Mark in January 2021.