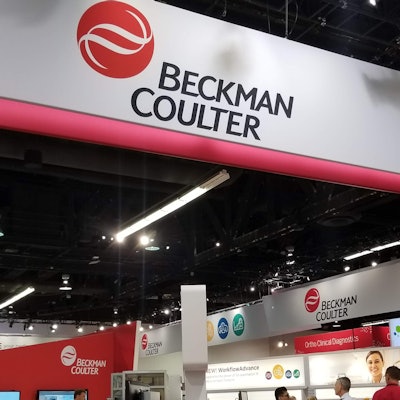 Beckman Coulter is targeting mid-May for the launch of its new Access SARS-CoV-2 immunoglobulin G (IgG) serology test.
The Access SARS-CoV-2 IgG assay is designed to expedite patient testing through the installed base of existing DxI and Access 2 analyzers on the company's DxCi platform.
Beckman Coulter plans to deliver more than 1 million tests in the first week of launch and completely satisfy weekly testing needs of its U.S. customers by late June, with additional capacity available to meet demand from global customers. The company also is targeting enough production to deliver more than 30 million tests per month. With Beckman Coulter systems, 200 test results can be processed per hour.
"The ability to deliver rapid test turnaround times with high quality is increasingly important as the market better understands the connection between sensitivity, specificity, disease prevalence rates, and the implications on false-positive results," said Kathleen Orland, senior vice president and general manager for Beckman Coulter's chemistry and immunoassay business, in a statement.
The company is validating the test in-house and plans to submit it for emergency use authorization to the U.S. Food and Drug Administration and for the CE Mark in Europe.