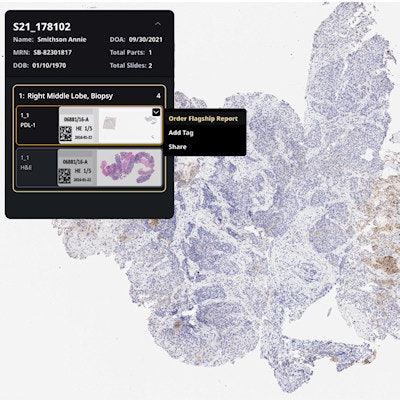 Pathology artificial intelligence (AI) software developer Paige has inked a partnership with Flagship Biosciences that makes Flagship's diagnostics software application for immunohistochemistry tissue samples available through the Paige Platform.
Users of Paige Platform will be able to directly launch Flagship's TissueInsight software for quantifying programmed cell death ligand 1 (PD-L1) expression in immunohistochemistry tissue samples. TissueInsight gives CLIA-reportable PD-L1 results, as well as data about the tumor microenvironment, such as information about macrophages and tumor-infiltrating lymphocytes.
TissueInsight automatically reads tissue slides to provide rapid tissue interpretations, according to the company, eliminating the variability of subjective manual tissue scoring. By making the application available through Paige Platform, pathologists will get access to biomarker testing results that will inform treatment planning, the companies said.