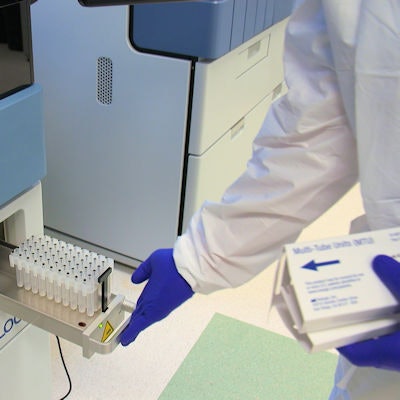 Hologic has launched a research-use-only (RUO) version of a new molecular assay that can detect SARS-CoV-2 and which is expected to dramatically increase testing capacity at labs.
Initially, Hologic expects to distribute about 3 million of its Aptima molecular assay, which will run on the company's Panther system, to CLIA-certified hospital, public health, and reference laboratories.
Starting in late May, Hologic expects to produce about 1 million tests per week. Production is expected to accelerate in the coming months, according to the company.
Hologic plans to apply for emergency use authorization (EUA) for the Aptima SARS-CoV-2 assay with the U.S. Food and Drug Administration and to register a CE Mark for diagnostic use in Europe.
The U.S. Department of Health and Human Services provided $13 million in funding for the project via support from the Biomedical Advanced Research and Development Authority (BARDA).
The Aptima assay is the company's second diagnostic for COVID-19. Its Panther Fusion SARS-CoV-2 molecular diagnostic received an EUA in March.