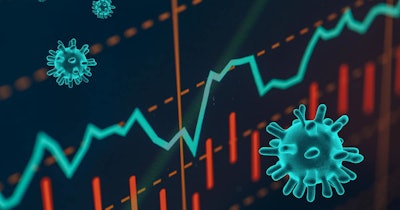 The global COVID-19 IVD market will reach $24 billion to $25 billion in 2023, including both immunoassay and molecular testing.
The forecast reflects an expected drop of 11% to 13% from the market size in 2022, according to Kalorama Information, a sister brand of LabPulse, in a new report titled COVID-19 Testing Market Update 2023.
Despite the decline, COVID-19 is expected to remain one of the larger single-disease categories in IVD testing, the report said. Rapid testing, mostly antigen-based, will hold up the market while lab-based polymerase chain reaction (PCR) testing declines.
The COVID-19 virus has proven to be persistent and capable of mutating, with potential to produce variants. This characteristic is not expected to change, and is creating an ongoing need for COVID-19 testing.
Furthermore, the landscape for COVID-19 testing is changing. Companies are offering multiplex testing that will provide crucial data about whether the patient has COVID-19 or influenza from a single-source test.
Markets' growth is expected to differ by venue. COVID-19 testing will continue to offer opportunities in home testing, for example. Kalorama sees the development and launch of several new multiplex tests for COVID-19, influenza A & B, and RSV for the home market, and that trend is expected to continue.
In the past three years, COVID-19 supported new IVD company entrants such as Co-Diagnostics, LumiraDx, Lucira Health, and Cue Health. However, per Kalorama, the endemic phase of COVID-19 will prove mostly beneficial for the top players in in vitro diagnostics.
The competitive landscape will shrink as some companies that secured one or two COVID-19 emergency use authorizations from the U.S. Food and Drug Administration (FDA) will not be able to continue to generate enough revenue to support their businesses. Companies will also need to reassess their business models to remain competitive. Many companies have already branched out, offering multiplex tests that are designed to differentiate COVID-19 viruses from influenza A & B viruses.
The top 10 companies have 62% of the overall IVD market, according to Kalorama. Within the COVID-19 testing segment, Abbott, Roche, and Danaher (including Cepheid, Beckman Coulter Diagnostics, and its other subsidiaries offering diagnostic testing) lead in annual sales. Because of their corporate strategies, two rivals -- Abbott and Roche -- differ in the types of tests that are their top sellers. Abbott leads in immunoassays, while Roche leads in molecular testing. As molecular testing's growth will slow over the years, Kalorama expects Abbott to be the leader in COVID-19 testing during its endemic period.